A community of rural businesses and individuals in Nebo, Llanrwst, North Wales came together to apply for the broadband scheme .
The options open to them were Satellite or 3G. A site survey by Telemat revealed a strong 3G Signal thanks to a communications mast located at the north end of the valley.
Access speeds of between 1MB and 3MB were recorded. Based on this the majority of applicants decided to go for the 3G solutions over Satellite.
Through co-ordination by one individual in the community, application forms were completed for 19 premises. Within six weeks, the Welsh Government gave the go ahead to the applications for 3G Broadband.
Telemat set about over a period of two days, installing and testing. The equipment installed consisted of an external antenna, suitable router and where needed adapters to reach different areas within each property.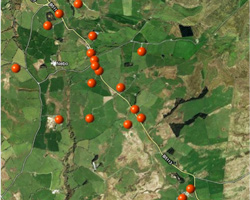 Map showing the location of each installation in the valley extending roughly 8 miles from the communication mast.
For more information about the Broadband Scheme, call 01239 712345, or email enquiries@telemat.co.uk