Protecting your business isn't just about installing alarms and CCTV cameras. More and more information – corporate, personal and financial – is being stored and processed on IT systems, and with that, the risk of threats to your business are increasing. These consequences could have a long-term effect on your business.
Protecting data held on your computer system is just as important as having all your windows locked and doors bolted when jetting away on your annual holiday!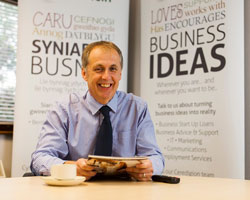 "Telemat have helped us implement security systems and processes to meet all the requirements of stringent external audits by our clients"
Dewi Williams, Antur Teifi
Protect your business from threats with Telemat
Telemat can provide advice and support to keep your systems protected in this increasingly complex environment.
Every desktop is a potential entry point for viruses. Potential problems can be caused by:
Careless use of email
The internet
Inadequately secured wireless connections
Staff error
Security Audit
Telemat will review your network security and provide you with a report on the findings highlighting security gaps, and recommendations to secure your systems which may include the installation of one of the following:
Anti-virus software
A program that is designed to prevent, search for, detect, and remove software viruses, and other malicious software like worms, trojans, adware and more
Firewall
A piece of software or hardware designed to block unauthorised intruders from gaining entry to an individual computer or a network.
Wireless security
This involves securing your wireless network and putting into place the most effective measures for protecting your network and its sensitive data.
To keep your business secure, call us on 01239 712345 or mail enquiries@telemat.co.uk